Delivering a speech is an essential part of every student's curriculum. It requires confidence to articulate your thoughts and represent them in front of the entire school. It is a beautiful way to interact with your audience, engage with them, and add to their knowledge. This scholarly exercise helps students showcase their critical thinking, soft skills, creative writing, knowledge, viewpoints, and public speaking skills, which allows them to boost their confidence and stand out from the crowd.
The initial step of crafting a speech requires a unique school speech topic. Before starting the business of writing, students must consider their school speech topics. One should decide on their speech topics and get to the writing part as early as possible. But, sometimes, even after brainstorming for hours, students still need help deciding what topic to choose. Don't worry; we've got you covered!
No more stomach-churning and anxiety-inducing thoughts about what topic to choose; our experts have compiled a list of excellent school speech topics. You can use these speech topics to frame an incredible piece of writing.
Three Pillars of Any Speech
No matter what kind of speech you're delivering, in all speeches, especially academic speeches, there are always three significant components. These include logic (logos), ethics (ethos), and emotions (pathos).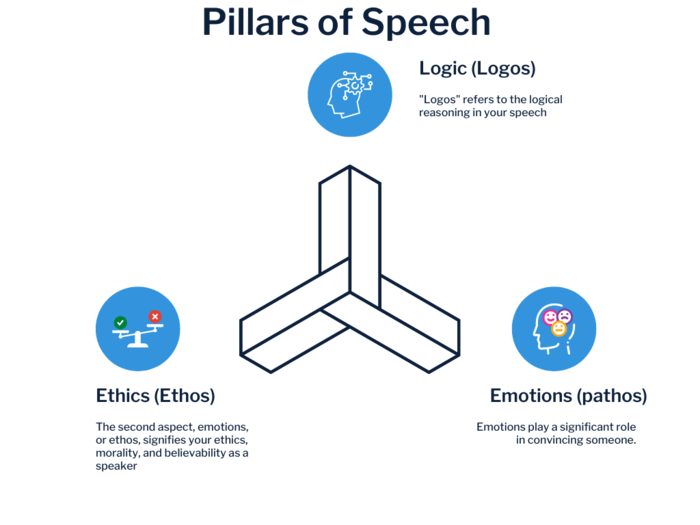 Logic (Logos):- "Logos" refers to the logical reasoning in your speech. A single link must connect all the pieces of your arguments and statements. Thus, from the introduction to the conclusion, draft logical, meaningful, and reasonable points to give substance to your opinions.
Ethics (Ethos): The second aspect, emotions, or ethos, signifies your ethics, morality, and believability as a speaker. Increasing your credibility will help persuade your professors or readers to accept your arguments and consider the necessary actions.
Emotions (pathos): Emotions play a significant role in convincing someone. It is likely the most crucial aspect of your academic speech. Emotions pique people's interest, which motivates them to listen to your arguments and consider taking the recommended actions.
Thus, to present a unique, intriguing academic speech, students must ensure that their speeches successfully comply with all these three pillars of speech.
How to Research Speech Ideas for School
There are some fundamental suggestions that you need to follow for selecting your speech topics. These suggestions will help you navigate through the selection process. These include:
Research and narrow down crucial topics that would perfectly fit into a coherent speech topic. Ensure that the selected topic is suitable to enhance your abilities and interact with your audience.
The next step is to identify your targeted audience. Knowing your audience's demographics will enable you to choose a subject that will capture the audience's attention from the start. Ensure to be more aligned with the audience's general areas of interest.
Ensure that your selected topic is not leading your audience in distinct directions where they will find it hard to follow your speech flow.
When you've selected your educational speech topics, follow the answers to these 5 Ws to ensure you're on the right track:
Who is affected by your topic or problem?
Why is this subject significant? What drives the exploration of it?
What regions of the world does the topic affect, or where is it located?
When and how was/is this subject discussed? Is time a crucial component?
What is the most crucial argument or point of view?
The next step is to understand your audience. Knowing your audience's demographics will enable you to choose a subject that will capture attention from the start and be more in line with general areas of interest.
Keep things interesting for yourself and your audience. Speeches can be tedious. Choose a creative, exciting topic to keep your audience engaged throughout the presentation.
200+ Captivating School Speech Topics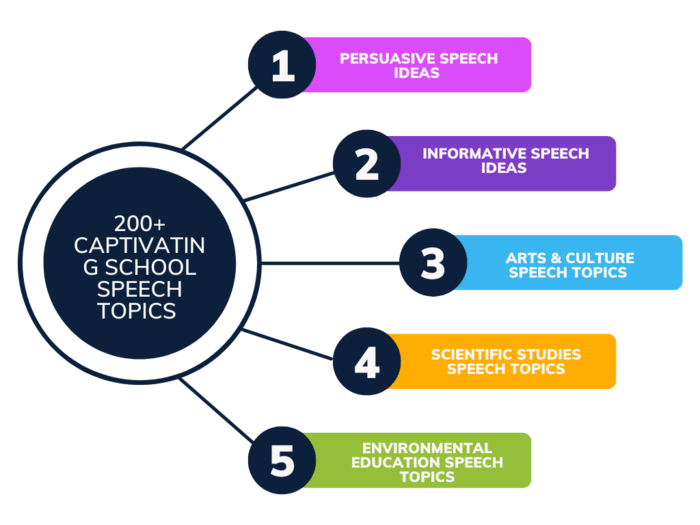 Writing a speech requires coming up with a brilliant topic and then articulating your thoughts and knowledge in a systematic and disciplined manner. Either teacher assigns students their topics for speeches, or students might have the opportunity to select for themselves.
Below is a list of 200+ great speech topics for high school students that can help you draft a powerful speech.
Speech Topics for High School Students
For high school students, the scope of research extends to another level. They can do research on anything and anyone they want. There are numerous topics for speeches that could be interesting to you. Look through the list of topics below to see if you can find something that interests you.
The 1917 Spanish flu
The opioid outbreak in the United States
Ignorance is bliss
The Salem witch trials
Cruelty in animal testing laboratories
How do books make a difference?
Fashion in Victorian Britain
Modern politics, culture, and society
Racial discrimination in the workforce
The power of satire in comedy
Censorship issues in the film industry
Classical mythology in popular cultures
Superhero culture in society
Body donation for medical science: why and why not?
Depletion of the ozone layer
What is the reason for deforestation in developing countries?
Waste management from a global perspective
Water-saving agriculture in China: an overview
Why do endangered species matter?
Read Also – Top 100 Position Paper Topics
Persuasive Speech Ideas for Students
Persuasive speech is crafted to persuade individuals to believe in something or do something irrespective of their traditional beliefs. It is the type of speech that revolves around everything, whether it's arguing about politics or talking about a balanced diet.Below are some engaging, persuasive speech topics for students. Use this list to get inspired and craft a fantastic speech:
Impact of marketing on individuals and their perception
Effect of peer pressure on students' mental health
Are zoos ethical? Why animals should not be kept in zoos
Strategies involving students' interest in learning
Critical global issues: what is the biggest threat to the world?
The past, present, and future of recycling
Conservation of oil and natural gas
Understanding the importance of water reservations
Why is global warming still a threat to human health?
Advertising standards: advertising should be more regulated.
Why has Indonesia banned palm oil exports?
How can television once again be instructive and beneficial?
The truth about political correctness: the two-fold connection of liberalism
Euthanizing stray animals: is it ethical?
How our differences make us unique
The importance of delegation
Technology dependency among teenagers
Benefits of conserved oil
Search engine technologies are replacing traditional research methods.
Is graffiti art or vandalism?
Informative Speech Ideas for School Students
An informative speech is a type of speech that is crafted by centralizing people, events, places, news, things, or processes. This speech is entirely and exclusively focused on facts.
Thus, in simple words, an informative speech imparts knowledge to the audience regarding a particular subject. If you're thinking of drafting an informative speech, then here are some topic suggestions you can consider:
The importance of the arts for students
The life cycle dynamics of ocean animals
Customer satisfaction surveys in the business world
A prohibition on advertisements that depict violence, ragging, or body shaming to gain TRPs.
Relationship between religion and Education
IUCN Red List of Threatened Species
Why one shouldn't be afraid of their competitors
The psychology of colors: the effects of colors on behavior
Self-tanner has real-world adverse effects.
Antipodes map: tunnel to the other side of the world
Overweight and obesity
Owning a pet: things to know
Could fining parents cut childhood obesity?
Ancient and Asiatic horse breeds
The history and present of the ivory trade
Causes of deforestation in developing countries
Causes and effects of overpopulation
medical dangers of consuming nicotine
Sexual prejudice in sports
Read Also – Top 100 +Group Discussion Topics
Arts & Culture Speech Topics for High School Students
Here we've compiled a catalog of some outstanding arts and culture speech topics to help you frame a memorable speech:
Culture and nationalism
The importance of multicultural Education
Graffiti should be considered an art.
Preserving traditional games as cultural treasures
Classic literature readings versus modern e-books
Art and music therapy
The economics of art museums
The importance of music and the arts for young minds
The E-Library Culture
Incredible School Speech Topics for English & Classical Literature
If you're a literature student or are keen to study literature or English, then you can look at these below-given school speech topics connected with English and literature.
Keats, the man, medicine, and poetry
Women writers who shaped American literature in the twentieth century
Resolving writer's block
Shakespeare's role in shaping the modern language
Evaluating Ernest Hemingway's narratives for promoting toxic masculinity
The history of book bans in the United States
Symbolism in Harper Lee's To Kill a Mockingbird
Which current literature will endure as classical literature in the future?
Pride and prejudice: the limits of societies
Understanding Virginia Woolf as a feminist
Contemporary movies that depict works of classic literature
The role of Lady Macbeth in the downfall of Macbeth
contribution of women in shaping early American literature
Romanticism in the 18th-century British literature
The status of women in 20th-century English society
Male dominancy in the texts of early British literature
An examination of the "I Have a Dream" speech by Martin Luther King, Jr.
Understanding power and identity in Gothic literature
Agatha Christie as the first lady of crime
The post-romantic and Victorian eras
Read Also – 100+ Anthropology Research Paper Topics
School Speech Topics Regarding Current Affairs and Social Issues
Finding exciting topics regarding current affairs or social issues is pretty straightforward. Crafting a speech around current and social events will have an exceptionally significant impact on your audience. Carefully analyze each topic in the following list:
White nationalism
What lessons have we learned from the pandemic?
The Occupy Wall Street movement
Afghani women under Taliban rule
Modern protest culture
Israel-Palestine relations
Ukraine and Russia are at war.
Liberalism vs socialism
The Me Too movement
Role of the UN in protecting human rights
"Viral" culture in today's society
Black Lives Do Matter.
Anti-hijab protests in Iran
Human rights as a western construct
A Green New Deal
Israel-Palestine relations
Tortured justice: no pain, no gain?
Syrian civil war
Global human trafficking: a 2022 report
Generational divisions between Baby Boomers, Millennials, and Generation Z
DACA: Deferred Action for Childhood Arrivals
Politics, Law, and Business Related School Speeches Ideas
Writing a speech regarding politics, law, or business can be complicated. Despite their interest in these subjects, students chose them as speech topics. While watching current events or the news can be advantageous, you can also analyze the below-given list for some inspiration:
Marketing niches: is it beneficial for your business?
The role of elections in a democracy
Understanding the influence of social media on shaping political campaigns
Political ideologies that shook the world
Analyzing the government's role in combating the environment
The future of small businesses
Business performance management
Unorthodox business ideas
Anti-trust policies and provisions
Juvenile Delinquency Prevention
America is not a democracy.
An overview of activity-based management in businesses
Gender-based discrimination in the workplace
Youth and politics: youth participation in changing the world
The business world has forgotten competitive marketing skills.
Democracy vs communalism
Image of "Justice" in Dostoevsky's Crime and Punishment
Modelling the impact of AI on the global economy
Emerging issues in the private panel institutions
Speech Topic Suggestions on Psychology
Today, psychology is a highly contentious issue. Many students are interested in learning more about psychological issues. Therefore, consider creating your speech around psychology. Check out our collection of topics!
Mental health issues and war veterans
Why does human multitasking fail?
Drug Addiction Hypnotherapy
The impact of media and peers on eating disorders among children
impact of social media on our mental health
The psychology behind cults
Sigmund Freud's Theories: Simply Psychology
Social determinants of mental health
The psychology of sleep paralysis
Cognitive approaches to insomnia
Abnormal psychology
The psychology of dreams and nightmares
The psychological essence of child geniuses and prodigies
Early identification of autism disorders
The consequences of childhood bullying on mental health and low self-esteem
The relationship between physical and mental illness
The formation of memories in the human brain
Emotional reaction to music: how does music evoke emotions?
The psychology of money
School Speech Topics Based On Technology
Being science students, nobody knows this better than you; those technological speech topics can never be dull or tedious. This field is undoubtedly the most complex or challenging, but what can be fun if there's no challenge? So, here are some fascinating technology-related speech topics for high school students:
It is preferable to have printed images than to retain electronic copies on a computer.
The significance of regularly creating backups of your computer files
Search engines are replacing libraries.
Future Space Science and Exploration: A Historical Overview
A Scientific and Ethical View on Human Cloning's Developments
What Is the Future of Artificial Intelligence?
Increase in robotics
How can we continue to profit from the internet?
The Effects and Consequences of Bio-warfare
The future of humankind and its technological impact
The significance of being alert to internet fraud
Phones make it difficult for us to communicate with one another.
Why free internet music should be available.
The role of technology in shaping our lives
The future of AI watches
How are evolving technologies harming human lives?
Topics for Scientific Studies Speeches
Are you searching for compelling subject matter for your speech? You'll need to choose the proper topic carefully because this is one of the most challenging disciplines of study. Here are a few suggestions.
What Is a Computer Virus?
What Is the Influence of Social Media on Us?
Discover Interesting Facts About the Human Brain
How does the human brain work?
Drug testing shouldn't be done on animals.
How can geniuses be produced?
How can rainforests be preserved for future generations?
The contribution of Newton to science
The historical scientist with the most impact
How are search engines operated?
How do modern technologies change our lives?
Why shouldn't whales be used as a food source?
The AI of tomorrow observes
Environmental Education Speech Topics
Despite only minor Ozone Layer loss, we still have a long way to go to protect our environment. If you are into environmentalism, then these given environmental speech topics can help you craft a memorable speech about enhancing the ecological system. Carefully analyze the following intriguing environmental speech ideas for college students:
How to Create a World That Runs on Alternative Energy Sources
What Can We Do to Prevent Animal Abuse?
What human behaviors cause landslides?
There is no longer a lot of fish in the seas and oceans. Why?
Effects of a Growing Population
Why Do Farmers Use Organic Fertilizers?
Are Our Tropical Rain Forests Dying?
The benefits of using reusable bags every day
Whether Pluto should be classified as a planet
Advantages of requiring recycling for everyone
Should the US government increase its funding for space initiatives?
What are the primary risks posed by oil spills in the ocean?
Is it crucial to be informed about what's going on in space?
Importance of environmental cleanliness
Conclusion
In addition to research and diligent work, brilliant work is essential to prepare an educational speech. Please remember that this is not a research paper but only a speech. Prepare accordingly. Research credible sources, but don't go overboard. Know when to stop researching and get back to writing.
Speech isn't just about your writing skills; it also involves your communication skills. Don't leave it to the last minute; start practicing your speech delivery as soon as you finish writing. Using words is simple if you are precise and confident in your presentation of your work. Be intellectual, passionate, and enthusiastic, and your audience will applaud you appropriately.
If you can't handle your papers, Edumagnate is a paper help service that meet your needs.